People often laud stainless steel for its strength, corrosion resistance, and aesthetic appeal. It has found extensive applications in modern infrastructure. Stainless steel has made its mark everywhere, from the exteriors of skyscrapers to the complex designs of the pipeline systems in industry. But a significant facet of this material's utility lies in its transformation into pipes. Let's have Swisstech Schreiner delve into the world of stainless steel pipe processing.
Detail of Stainless Steel Pipes Processing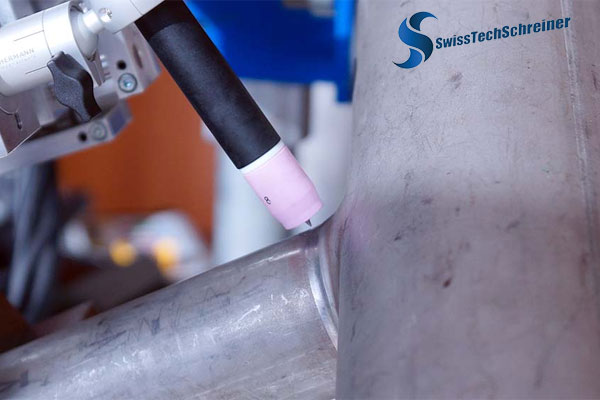 The Birth of Stainless Steel Pipes
Before a stainless steel pipe graces our homes or industries, it starts as a raw coil or a plate. This raw material is molded into a round shape, either through welding or a seamless process.
Welded Pipes: Here, flat steel plates are shaped into tubes and then welded along the seams.
Seamless pipe raw material : These are crafted by heating a billet and then stretching it over a series of mandrels to give it a hollow shape.
Cutting and Sizing
With the basic pipe structure in place, it's time for precision. Advanced cutting tools, such as laser cutters and plasma torches, come into play. They ensure the pipes are cut to desired lengths with finishes that are smooth, ensuring that each section fits perfectly in its destined application.
Heat Treatment and Conditioning
Heat plays a pivotal role in enhancing the properties of stainless steel. Through processes like annealing, where the pipe is heated and then cooled, the steel's microstructure is modified, enhancing its durability and workability.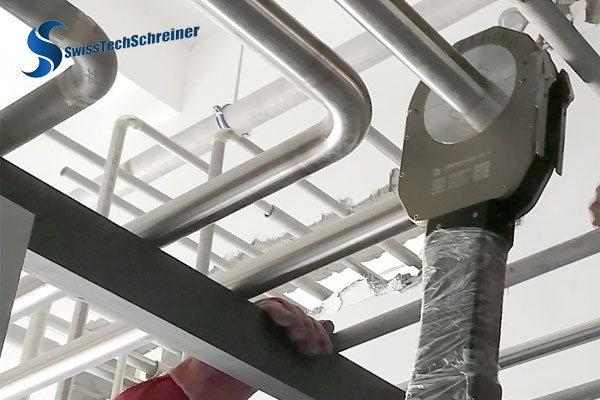 Polishing and Finishing
A hallmark of stainless steel is its lustrous finish. Pipes undergo several rounds of polishing to achieve that signature shine. Whether it's a mirror finish or a brushed look, the finishing process ensures that the pipe isn't just functional but also aesthetically pleasing.
Testing and Quality Assurance
Before a stainless steel pipe finds its way into a building or machinery, it's rigorously tested. From checking the pipes for leaks to ensuring they can withstand pressure. They have to test to guarantee that the pipe will function optimally and safely.
The Environmental Footprint
Modern stainless steel pipe processing is also about responsibility. Many current advanced facilities focus on sustainable practices, ensuring minimal waste and recycling excess material.The reason is that it's not just about creating a durable product, but doing so in an environmentally-conscious manner.
Stainless steel pipe processing is a meticulous journey from a raw, sturdy alloy to a polished, resilient tube. These pipes were born with precision and care. They serve an important role in our daily lives and modern industries. The next time you glimpse a shiny steel surface or turn on a tap, remember the impressive engineering and artistry behind that simple pipe.
=> Read more about Stainless Steel Pipe Processing :
=> Quy trình gia công ống thép không gỉ (Stainless steel pipe processing) cụ thể và chi tiết

Swisstech Schreiner: Mastering Orbital Welding for Stainless Steel Pipes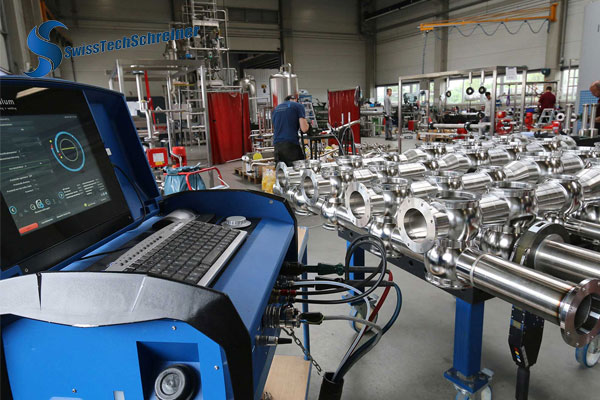 In the complex world of stainless steel pipe processing, precision is paramount. Let's go with Swisstech Schreiner, a company of innovation that champions the advanced application of orbital welding technology. With a commitment to excellence, Swisstech Schreiner seamlessly blends tradition with technology, offering top-tier services in stainless steel pipe processing by orbital welding technology.
Swisstech Schreiner Pioneers in Precision
Swisstech Schreiner isn't just another name in the industry; it's a hallmark of quality. Their embrace of orbital welding technology for stainless steel pipes showcases their dedication to providing cutting-edge solutions, ensuring precision, consistency, and integrity in every project.
The Orbital Welding Technology Advantage
Harnessing the power of orbital welding, Swisstech Schreiner guarantees:
Uniformity: Achieving consistent, 360° welds around pipes, ensuring structural integrity.

Efficiency: Drastically reducing the processing time compared to conventional methods.

Purity: Delivering contamination-free welds, essential for industries like pharmaceuticals industry , semiconductors, and food & beverage industry.

Custom Solutions: Tailoring the welding parameters to suit the specific requirements of each project.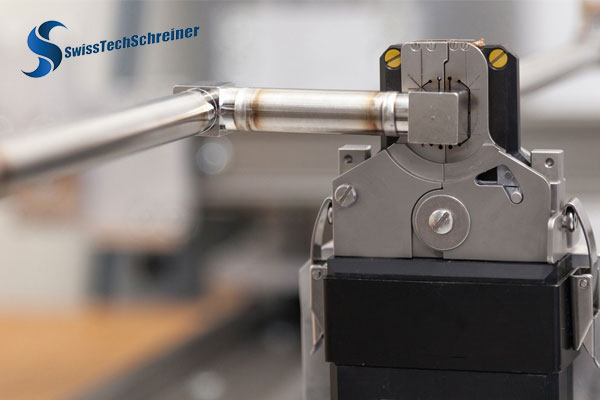 Industries Served
Swisstech Schreiner's expertise extends across multiple sectors:
Pharmaceuticals industry: Prioritizing ultra-clean welds for contamination-free operations.
Semiconductors: Ensuring ultra-high purity in systems.
Chemical and biography: Delivering precision welds to meet rigorous standards.
Food and Beverage industry: Offering hygienic solutions with impeccable weld finishes.
Quality Assurance: Beyond the Weld
The team at Swisstech Schreiner doesn't just stop at welding. Every processed pipe undergoes stringent quality checks to ensure that clients receive nothing but the best.
Sustainable & Future-Ready
In line with global trends, Swisstech Schreiner emphasizes sustainable practices. By optimizing resource usage and minimizing waste, Swisstech Schreiner not only delivers exceptional services but also does so responsibly in the orbital welding, construction of pipeline systems, maintenance work,...
=> See the detail about stainless steel pipe processing by orbital wwelding technology at :
=> Swisstech Schreiner provides the solution for Stainless Steel Pipe Processing With Orbital Welding technology
Swisstech Schreiner, with its expertise in orbital welding technology, has positioned itself as a current leader in stainless steel pipe processing in Vietnam. By prioritizing precision, innovation, and customer satisfaction, they offer services that are not just technologically advanced but also logically sound. For businesses seeking the perfect blend of tradition, technology, and trust, Swisstech Schreiner is the name to rely on.
Stay updated on industry innovations and breakthroughs. Connect with us for more insights into the world of advanced manufacturing and beyond

Swisstech Schreiner.
Add: ch 4153 reinach and hcm city vietnam
Hotline: (+84) 931 - 386 - 062
Phone: (+84) 931 - 386 - 062 +84931386062 ( zalo / viber / whatsapp )
Email: swiss.tech.schreiner@gmail.com
Other News